5 Home Improvements that are fun and will liven up your space
Are you hoping to update your home without breaking the bank? Home improvement does not have to be stressful. In fact, updating your space can not only be cost-effective, but it can also be fun! Here are some of our favorite ideas to have a little fun adding some style to your home:
Refinish a Piece of Furniture
Refinishing furniture is a very cost-effective way to update your space. Perfecting this technique will allow you to keep your home looking stylish without buying new furniture with each new trend. Although this can be a tedious process, it can also be a fun way to express your artistic side. Seeing your new piece in your home will give you a sense of pride and accomplishment. Plus, it will give you some bragging rights.
Plant a Garden
It can be very simple and cost effective to start your backyard garden. Try creating a boxed in space with some old pieces of wood you have laying around. Or go to a local shop that may give wooden pallets for free. This is a project that takes frequent work, but it is fun for many people. Watching your own fruit and veggies grow is satisfying and delicious!
Create Your Own Artwork
Artwork can be quite expensive. But, if you create your own, it will be cost-effective and just as you want it. If you are artistic, this can be a simple and fun task. But, if you are not artistic, there are still ways that you can liven up your space with your own work. Try covering some canvas with a stylish piece of fabric for a modern looking wall hanging. Or, spray paint some lace over a canvas to get a cool textured looking painting that you will be proud to display.
Add a Fun Feature
Maybe doing the actual work is not your thing, but you still want to update your space. Try to add a fun feature, like a hot tub or fireplace. You can even make it as simple as adding a fire pit to your backyard. Any of these features will be a fun way to enjoy your time with your friends and family. They easily pay off the cost with the amount of fun you will have.
Looking for a really fun piece of furniture? Well Iris Furnishing has just what you're looking for if you want a piece that will liven up your space!
Add Built-in Furniture
Built not bought, adding a feature to your home like a custom designed built-in bookshelf will not only liven up the space, it will add a tremendous amount of value to your property and you'll receive a return on the investment! You can even incorporate some of the other tips from this article like displaying your own artwork or create a vertical planter box that you can hang from your new built-in bookshelf!
Add a Window Seat
This isn't a project that you can do by yourself, but it is one that you will enjoy immensely. Window seats add some extra space to the room, and you can curl up in comfort with a great view. It is also a unique addition that can add some real value to your home. If you are looking to add a window seat to any part of your home, find a company with a lot of experience to help you out.
There are a lot of things that you can do to improve your home, but the most important thing is to find something that you like. Don't worry about having the same thing as everyone else. Your home is about you, not about being like everyone else.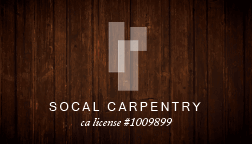 SoCal Carpentry
Finsih Carpentry and Fine Cabinets
1202 Knoxville St. San Diego, Ca 92110
Finish Carpentry and Fine Cabinets
License Number 1009899
1202 Knoxville St. San Diego, Ca 92110