BookShelves, Floating Shelves, And More.
Whether you're looking for a set of sleek, yet elegant floating shelves, a feature wall with space to display your favorite collectables, or a bookshelf, whatever your custom shelving needs are, SoCal Carpentry can build the storage solution that will transform your space.
Contact SoCal Carpentry For Your Free Estimate Today.
Custom Shelving, Built-In Shelving, Bookshelves and More.
No matter how big your home is, it can feel small really quickly if you're not organized. Maybe you need to organize your office or store your book collection. Custom Shelves from SoCal Carpentry is the solution you're looking for. Adding custom shelves can be great for design but it is truly great for organization for any room in your home or at your business.
SoCal Carpentry can create any custom shelving that you need. Book Shelves, Shelves with hooks for your pots and pans in the kitchen, floating shelves for your living room, shelves with baskets to store toys, papers or anything else that you need. By adding custom shelving you will drastically increase the feel of your home or office, get the clutter out of the way and make it well organized with custom shelving from SoCal Carpentry.
SoCal Carpentry is not just a custom shelving builder, take a look at some of our other services Custom Carpentry, Finishing, Furniture, and Trim.
Built-In and Custom Shelving Options by SoCal Carpentry San Diego.
Floating shelves offer a very modern and beautiful look, with no exposed brackets holding them up. Floating shelves are sturdy enough for books, electronics or any other use that you need.
Custom Shelves in the kitchen can increase your storage space, if your cabinets are cluttered move the pots and pans out of the way with shelving that has hooks for holding your larger items, making them easily accessible and convenient for spaces that lack space.
Custom Shelving with baskets built in provide an excellent way to get clutter from your kids room off of the ground. If you're tired of stepping on legos add custom shelving to add organization to your childs play space.
Do you have existing shelving that you would like to upgrade? Have SoCal Carpentry build custom shelving brackets that give your shelves a fresh new look.
Specialized racks to allow you to hang all of your clothes, keeping them off of the ground and perfectly organized.
Custom Shelving Design & Build.
Book Cases Built To Your Exact Specification.
Custom Made Floating Shelves.
F.A.Q.
Frequently Asked Questions
Are your custom shelving options expensive?
Any custom piece is going to come with a higher cost, since SoCal Carpentry builds bespoke fixtures that are made to order, the cost will be higher than buying something pre-built, however, the fixture will pay for itself in the ability to customize it to match your branding, increased functionality, and overall design.
Do You Offer More Than Custom Shelving and Book Cases?
Yes, SoCal Carpentry is a full-service Finish Carpentry and Fine Cabinet maker in San Diego, we specialize in building custom cabinets, closets, furniture, and business installations for our customers that are designed, and built in-house using only the highest quality materials.
What is the build process for a custom shelving project?
Our shelves are built using the same process as all of our projects. We begin with a free consultation to get the scope of the project, we use CAD to design the project, build the timeline, and provide an estimate for the project. We then build and install your piece to your exact specifications. Want to find out more? Take a Look.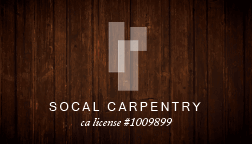 SoCal Carpentry
Finsih Carpentry and Fine Cabinets
1202 Knoxville St. San Diego, Ca 92110
Finish Carpentry and Fine Cabinets
License Number 1009899
1202 Knoxville St. San Diego, Ca 92110