Furniture Refinishing and Refurbishment
Contact SoCal Carpentry For Your Free Estimate Today.
San Diego Furniture Refinishing and Refurbishment.
If you have a piece of furniture that doesn't look like it does when it was new, or maybe you have a family heirloom that you would like to use as the centerpiece in your home but it is showing its age, rather than getting a new piece of furniture to replace yours have SoCal Carpentry bring your furniture back to life. Furniture Refinishing by SoCal Carpentry is the low-cost alternative to replacing your furniture.
Many of our customers have come to us with high-quality furniture, made of real hardwood with beautiful hardware, their furniture is old and tired, showing it's age but due to its quality it needed to be saved. Furniture refinishing can bring your piece back from the dead, whether it is a fresh coat of stain to cover rings from cups, knicks, scratches or anything else, SoCal Carpentry can refinish your furniture to like new condition.
Maybe you have a beautiful piece of furniture but it no longer fits with the rest of your furniture, rather than throwing it away or selling it, refinish your furniture with a new color, new hardware, and an entirely new look.
The cost of high-quality furniture today is much higher than when all furniture was built with care, be thrifty and call SoCal Carpentry for Furniture Refinishing today.
If you're interested in furniture refinishing services and upgrading your space take a look at the rest of the Custom Furniture offered by SoCal Carpentry, you may also be interested in our Cabinet Refacing services.
Custom Window Seats Are Great For
Furniture refinishing can bring an old piece of furniture back to life, we can cover your damage and make your furniture like new.
Furniture refinishing services by SoCal Carpentry allow you to customize your piece to match the rest of your decor.
Add new hardware to your furniture to make it more modern.
Turn your old boring piece into a brand new piece that stands out as the centerpiece of your home without breaking the bank, furniture refinishing is much cheaper than buying high-quality furniture.
F.A.Q.
Frequently Asked Questions
Is Furniture Refinishing Expensive?
Each piece of furniture that we refinish is completely unique, therefor the cost will vary, however if you have high quality furniture it is worth it to refinish it. Rather than throwing away your cherished pieces bring them back to life, reimagine them, and make them perfect for your space by refurbishing them with SoCal Carpentry.
Do You Offer More Than Furniture Refinishing?
Yes, SoCal Carpentry is a full service Finish Carpentry and Fine Cabinet maker in San Diego, we specialize in building custom cabinets, closets, furniture, and business installations for our customers that are designed, and built in house using only the highest quality materials.
What is your process?
Each furniture refinishing job will have it's own unique requirements. To get started, email us pictures or give us a call and explain what you're looking for. We take the same care with each refurbishing job as we would with a custom design and build. We know your piece is important to you, so it's important to us and we will make it perfect for your space.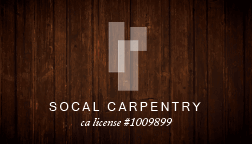 SoCal Carpentry
Finsih Carpentry and Fine Cabinets
1202 Knoxville St. San Diego, Ca 92110
Finish Carpentry and Fine Cabinets
License Number 1009899
1202 Knoxville St. San Diego, Ca 92110