The bathroom is one of the most busy rooms in a home. From showering in the morning to brushing your teeth at night, you go in and out of this room all day long. Why not make all the time spent in there more enjoyable? If you want to transform your current bathroom, here are a few essential features to create a luxe space.
Heated Floors
Heated floors are increasing in popularity because they'll keep your feet warm during the winter season and will make it easier to feel comfortable on colder days. You can continue to walk around barefoot and also reduce your energy usage with the feature because you won't have to rely on using the HVAC system.
Marble Countertops
Marble countertops are chic and will make the bathroom appear beautiful with their incredible design. The countertops are one of the main focal points in the room and can be paired with white or black cabinets.
If you want a more affordable option, consider quartz countertops, which mimic the design of marble but have a smaller price tag. They're incredibly hard wearing and won't dent or scuff easily with frequent use.
Heated Towel Racks
Heated towel racks offer convenience and will make it easier to step out of the shower or bath and into a warm towel. The racks can be turned on before you bathe to ensure that the linens are cozy and will keep the chill away.
Custom Shower
Custom designed showers are a must-have because it allows you to bathe in a space that is customized, whether you prefer to have multiple shower heads or a doorless shower that feels like a spa. You can also personalize your shower experience by adding digital shower controls, discreet speaker systems, grab bars, lights, etc. The sky's the limit when you go custom!
For a great look that is timeless, elegant, and affordable, consider a glass enclosure for your shower. This newer trend has really become the standard in fine custom homes, the experts at Troy Glass, a Glass Replacement Service, have seen an increase in these types of installations over recent years, and it's no wonder why!
Freestanding Bathtub
Freestanding bathtubs are making a comeback due to their luxurious aesthetic. You can install a new tub in the middle of the room to make it the centerpiece of the setting. Choose a clawfoot bathtub if you want a vintage design or a minimal tub that looks sleek if the bathroom is modern.
a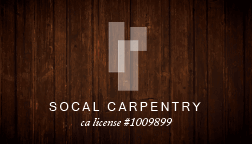 SoCal Carpentry
Finsih Carpentry and Fine Cabinets
1202 Knoxville St. San Diego, Ca 92110
Finish Carpentry and Fine Cabinets
License Number 1009899
1202 Knoxville St. San Diego, Ca 92110