Pre-Fab Cabinets Or Custom Cabinets?
If you're looking to remodel, building a new home, or thinking about your next big improvement, choosing the right cabinets can make all the difference.
Contact SoCal Carpentry For Your Free Estimate Today.
Choosing The Right Cabinets For Your Project.
Often times homeowners look to their kitchens and bathrooms as the first big renovations in their home, small improvements in these parts of your home can lead to a huge return on your investment as well as more overall enjoyment in your home.
If you're looking for the best way to make improvements without breaking the bank then you may be considering pre-fabricated cabinets from a big box store. Pre-fabricated cabinets come with the benefit of little to no lead time and affordability, they lack the small details that can really put your renovation over the top.
Let's take a look at the options and weigh the benefits of purchasing custom made cabinets from a San Diego cabinet maker like SoCal Carpentry:
Custom built cabinets come built to spec, that means that they're built to fit your exact needs, they're sized to fit your space perfectly and contain the elements you're looking for.
SoCal Carpentry uses high-grade hardwood and only high-quality materials when building custom cabinets, your cabinets will last a lifetime when you go with SoCal Carpentry.
Custom configurations, the options are endless, if you're looking for features like pull out shelves, soft close doors, or a lazy susan built into your cabinets, that is all possible when you go custom.
Additional benefits of custom cabinets include built-in outlets, custom sizing, custom hardware, and so much more.
What do prefabricated cabinets offer:
A generally lower cost, while SoCal Carpentry aims to be competitive with our pricing, our high end, completely custom made cabinets are going to be priced higher than the pre-fabricated, particle board cabinets you'll find at a big box store.
If you're looking for a quick solution, pre-fabricated cabinets are probably right for you. You can find pre-made cabinets at the major hardware stores, often available same day.
Custom Cabinets Bring Higher Resale
If you're looking to make improvements with the hope of one day selling your home then you should absolutely choose cabinets made by a San Diego cabinet maker like SoCal Carpentry. Our in house design, build, and installation means that you're going to be getting the best cabinets available and future buyers will take notice!
Finding the right cabinets for your renovation
If your project is in San Diego County then look no further than SoCal Carpentry, we design, build, and install our products, from start to finish we will ensure that every detail has been covered, fit and finish is exactly what you're looking for, and the finished product will be better than you could have ever dreamt.
If you're not in San Diego and you're working with a remodeling contractor consult with them to find the right solution for your budget, design, and the overall scope of the project.
Another cost effective option you may consider, Cabinet Refacing by SoCal Carpentry. If you've got old cabinets but they're made from high quality materials, Cabinet Refacing can bring your cabinets back to life.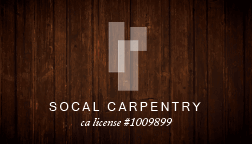 SoCal Carpentry
Finsih Carpentry and Fine Cabinets
1202 Knoxville St. San Diego, Ca 92110
Finish Carpentry and Fine Cabinets
License Number 1009899
1202 Knoxville St. San Diego, Ca 92110