Creating Your Dream Space.
With SoCal Carpentry.
A Fine Wood-Working, Cabinetry, and Finish Carpenter.
Serving San Diego, California.
be·spoke
'Creating Made To Order Goods'
When describing what we do at SoCal Carpentry, there is really no word better suited than
Bespoke
. We specialize in Fine Wood Working, Cabinet Making, Finish Carpentry, and making improvements to spaces that will last forever. When you contact SoCal Carpentry to start a project, you're really starting a relationship, we will be working together side by side to ensure that we turn your vision into a reality and create your dream space.
The Design & Build Process
When you contact SoCal Carpentry, the best method is by Text, being that we are a high end firm, our work is very detailed, we make every effort to reply as quickly as possible, but if you're able to providepictures, the specs of the job or any other details we will be able to help you much faster.
Once we have a general idea what your job will entail, we can move forward with scheduling a meeting. We focus on designing and building custom furnishings for our customers and that is our specialty. If you have a dream, we can surely build it, however, we are forced to turn away many jobs due to the nature of the work (i.e assembling Ikea furniture). If we are going to put the SoCal Carpentry name on a piece, we want to ensure it is high quality and will last you forever.
Once we have had a chance to talk about your project, if we both feel that it will be a great fit, we will schedule a time for us to meet.
During this meeting it is best to have pictures, examples, or a real idea of what you're looking to add to your space, whether that is new cabinets, a book case, furniture, or any of the many other services that we offer.
Generally, we are able to give you a ballpark estimate for the price of the project, If our estimate works with your budget, or we can come to an agreement on a ballpark cost we will begin scheduling. Since our work is custom and built completely to order it can sometimes be a few weeks to complete your project.
SoCal Carpentry will begin creating drawings and conceptualizing your dream with the measurements that we took during our meeting.
After we have completed our drawings we will want to meet again to go over the complete scope of the project. We can work out the specifics and ensure that we have everything that we need in order to transform your space into exactly what you want.
If our initial design drawings are to your liking we will move forward with solidifying our schedule, the budget, project scope, and contract.
The next step is creating computer drawings for the planning and building of your project! We do this to ensure that your project will be exactly what you have imagined. With any custom carpentry, there are sometimes unforeseen circumstances that can alter the time or cost of a project. We will absolutely do everything we can to ensure everything goes as planned.
Once we have finalized the drawings, plans, specifications and budget, we can move to the fun part, making your dream space a reality.
Since our work is one-off and custom built we will begin building your project in our shop located in San Diego.
Sticking to the timeline that we agreed to we will build, paint or stain, and install the new furnishings in your space. By handling every piece of the project ourselves we are able to guarantee the end result will be exactly as planned, maintain our commitment to providing the highest quality product to our customers, and ensuring your satisfaction when the job is complete.
Often times this is the step where last-minute decisions are made, in most cases we can accommodate, but they may incur extra expenses.
The final step in the process, bringing your dream project into your space and ensuring that it is installed perfectly.
This final step really sets us apart, since we handle every portion of the project from concept to installation SoCal Carpentry is able to ensure that the fit and finish of your project is perfect. During this final phase we will complete staining, painting and the finish work that your project calls for including making sure that you're 100% satisfied with the project outcome.
our design and build process ensures quality
Sure, you could go out to ikea, home depot, lowes or another big-box retailer and purchase components similar to what SoCal Carpentry builds, you can put it together in a weekend or have a handyman help with your project, there's nothing wrong with that, but that is not what we do, our process, designs, and most importantly build quality sets SoCal Carpentry apart from these big box retailers and handymen, this is also reflected in our pricing.
When you work with SoCal Carpentry you're not adding a piece of furniture to a room, you're not simply adding shelving or storage, what we provide is a custom built piece that is perfect for your specifications, when we say that we can build your dream space we mean it.
If you're interested in creating something that is built for your specific home, needs, and built to last forever, then you've come to the right place. Our process allows us to complete jobs on time, on budget, and ensures the final product meets our rigorous expectations while exceeding our clients expectations.
An Indepth Look at Our Design Process
After our initial consultation, our process moves into the conceptualization and design phase, during this phase we will use Computer Aided Design software that is built specifically to allow us to"build" your project on the computer, ensuring that measurements, finishes, and the overall layout of your project comes out perfect in the build phase.
Once we have completed the renderings of your project, we will have a complete and accurate list of materials needed to complete the job, this allows us to give you the most accurate estimate, and it ensures the job sticks to the agreed upon timeline.
When we provide customers with a rendering of their project it allows them to see the build come to life, at this phase in the project if our customer has changes they are must cheaper and faster to implement allowing the project to keep moving.
Turning an dream into reality
Once the computer renderings of the project have been completed, and the customer has approved we move to the building phase.
To ensure quality all of our projects begin in our state of the art shop, where we have the machinery necessary to complete your build to the specs outlined in the renderings. This also allows us to ensure that the conditions are perfect for the build, many times projects done in the home have delays due to scheduling conflicts between trades, the customer's schedule, and access. Having a dedicated shop with the tools and machinery necessary to carry out these high end builds allows SoCal Carpentry to provide more competitive pricing, better project timelines, and we can ensure that the product you receive is up to our quality standards.
Bringing the dream to your space
The final most exciting portion of our process is the installation. After we have completed the build of your project in our dedicated shop we can move the project into your home for it's final installation.
This is also when the finishing details are applied, whether your project involves a high-end stain, paint or finish work to match your existing home the installation phase is when we tie everything together.
Because our projects are custom and high-end, the project doesn't always end there, in most cases our customers become our friends. Our customized process of building the perfect piece for your home also builds relationships that will last a lifetime, just like your new installation.
custom built bookshelf project timelapse
The Cost Of custom millwork
Our pricing reflects the quality of the pieces that we build, everything is customized to meet the specific needs of the home, your preferences, and the level of customization that you prefer.
The benefits of hiring a custom cabinetmaker like SoCal Carpentry
We meet with you on-site to get a true feel for the property, take measurements, and discuss what we can do to make your space perfect.
This means that if a space measures 60-3/4″ we will build a cabinet that is 60-3/4″, unlike a big box store where you build to make their pieces work, we build around your needs.
We use high quality materials that will last a lifetime, unlike particle board and cheap pieces of lumber. When SoCal Carpentry builds a piece for you it will be built for function, durability and to your style. Everything is built to your lifestyle and specifications, this begins with material selection.
Not only are we experienced cabinet makers, SoCal Carpentry is a top-shelf carpentry, millwork, and finish carpenter.

We will build your dream space.
It's important to note, all of our work is custom and priced per job, there are too many factors to list so there is no possible way for us to provide a rough estimate on our website. The pricing above is strictly an example, your job could be less, or it could be more, it all depends on the specifics of the job itself. Not only can we work with your specifications for the job, we can work with your budget, but keep in mind we are a high end custom carpentry, cabinetry, millwork, and finishing carpenter so our prices will be in line with our service.
Specifically when staining wood, there are many factors that determine the pricing. Stained wood requires perfect joints and woodwork, this is the highest end of the work so we cannot begin to ballpark a price due to the drastic variances between projects.
For more information and a general guide on pricing for your project we suggest viewing this article from Home Advisor: How much does custom cabinetry cost?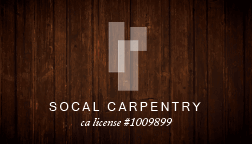 SoCal Carpentry
Finsih Carpentry and Fine Cabinets
1202 Knoxville St. San Diego, Ca 92110
Finish Carpentry and Fine Cabinets
License Number 1009899
1202 Knoxville St. San Diego, Ca 92110