Built In Cabinetry from SoCal Carpentry
Built In Cabinetry
By SoCal Carpentry, San Diego, California.
Don't settle for out of the box store bought built in cabinetry, get custom built in cabinets built for your exact needs by SoCal Carpentry in San Diego, California. No matter what your need is SoCal Carpentry can design and build the perfect built in cabinetry for your space. Built in Cabinets are great for storage in your living room, kids room, bedrooms or any other space in your house that could use some organization. The built in cabinetry you will get from SoCal carpentry will out last and out perform the store bought alternative by far, rather than buying a "temporary" solution from Ikea or a similar retailer you can build have the built in cabinetry created around your space with all of your needs in mind. Not only will you have a much more useable piece but you will have built in cabinetry that will last for years beyond the retail version, no particle board here! The cabinets that you receive from SoCal Carpentry are made from premium materials and built to last, too many retailers are selling cheap particle board pieces that are built to be shipped rather than being built to last.
The opportunities are endless with your custom built in cabinet, from SoCal Carpentry. You can choose the perfect color, shape, and size built in cabinetry, all of it will be built around your needs and will be built to your liking. Whether you're looking for a small built in cabinet or an entire built in cabinetry wall system SoCal Carpentry can build the perfect piece for your space. Call, text or email to schedule a free consultation with Barry today!
Learn more about SoCal Carpentry Custom Cabinetry, Closets, and Shelving.
Built In Cabinetry Options
A custom storage solution for any space in your home or business, built around your needs.
Choose from any paint color that you can find, the benefit to have custom built in cabinetry from SoCal Carpentry is that all of the design options are up to YOU!
Choose from a variety of style, designs, trim and more! The options are endless when SoCal Carpentry builds your built in cabinet system.
Add lighting to your built in cabinetry to make create a stunning way to show off your cherished pieces.
Add glass panels to the built in cabinet doors to create a great visual display in your home or office!
You choose the size of the built in cabinet system, whether you just need one small built in cabinet or an entire cabinetry system SoCal Carpentry has you covered.
Your built in cabinetry starts with a
-Complimentary Design Consultation-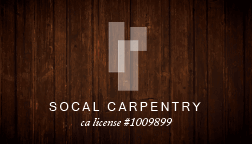 SoCal Carpentry
Finsih Carpentry and Fine Cabinets
1202 Knoxville St. San Diego, Ca 92110
Finish Carpentry and Fine Cabinets
License Number 1009899
1202 Knoxville St. San Diego, Ca 92110