Handmade Cabinets, Built-In Cabinetry and More
SoCal Carpentry is a San Diego Cabinet Maker, Finish Carpentry, and Fine Woodworking shop. Building the perfect cabinets for your home is our specialty.
Contact SoCal Carpentry For Your Free Estimate Today.
Custom Cabinets in San Diego.
Built-in Cabinets, Kitchen Cabinets, Garage Cabinets and more.
Don't settle for out of the box store bought built in cabinetry, get custom built in cabinets built for your exact needs by SoCal Carpentry in San Diego, California. No matter what your need is SoCal Carpentry can design and build the perfect built in cabinetry for your space. Built in Cabinets are great for storage in your living room, kids room, bedrooms or any other space in your house that could use some organization. The built in cabinetry you will get from SoCal carpentry will out last and out perform the store bought alternative by far, rather than buying a "temporary" solution from Ikea or a similar retailer you can build have the built in cabinetry created around your space with all of your needs in mind. Not only will you have a much more useable piece but you will have built in cabinetry that will last for years beyond the retail version, no particle board here! The cabinets that you receive from SoCal Carpentry are made from premium materials and built to last, too many retailers are selling cheap particle board pieces that are built to be shipped rather than being built to last.
The opportunities are endless with your custom built in cabinet, from SoCal Carpentry. You can choose the perfect color, shape, and size built in cabinetry, all of it will be built around your needs and will be built to your liking. Whether you're looking for a small built in cabinet or an entire built in cabinetry wall system SoCal Carpentry can build the perfect piece for your space. Call, text or email to schedule a free consultation with Barry today!
Learn more about SoCal Carpentry Custom Cabinetry, San Diego Closets, and Custom Shelving.
Handmade Cabinets in San Diego, Ca. Custom Built to fit your needs.
A custom storage solution for any space in your home or business, built around your needs.
Choose from any paint color that you can find, the benefit to have custom built in cabinetry from SoCal Carpentry is that all of the design options are up to YOU!
Choose from a variety of style, designs, trim and more! The options are endless when SoCal Carpentry builds your built in cabinet system.
Kitchen Cabinets Built To Spec.
Cabinets And Built-In Cabinetry For All Of Your Needs.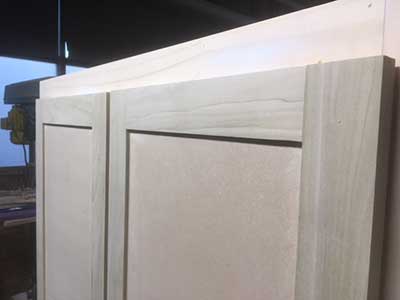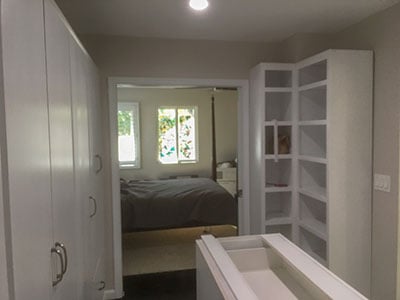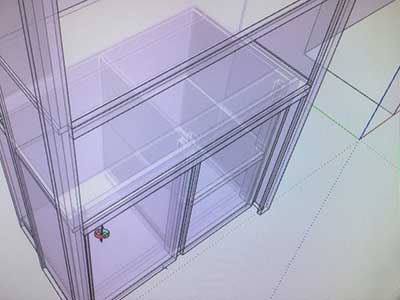 F.A.Q.
Frequently Asked Questions
Are your custom built cabinets expensive?
Any custom piece is going to come with a higher cost, since SoCal Carpentry builds bespoke fixtures that are made to order, the cost will be higher than buying something pre-built, however, the fixture will pay for itself in the ability to customize it to match your decor, increased functionality, quality, and finish.
Do You Offer More Than Custom Cabinets?
Yes, SoCal Carpentry is a full service Finish Carpentry and Fine Cabinet maker in San Diego, we specialize in building custom cabinets, closets, furniture, and business installations for our customers that are designed, and built in house using only the highest quality materials.
What is the build process for a custom cabinetry?
Our Display Cases are built using the same process as all of our projects. We begin with a free consultation to get the scope of the project, we use CAD to design the project, build the timeline, and provide an estimate for the project. We then build and install your piece to your exact specifications. Want to find out more? Take a Look.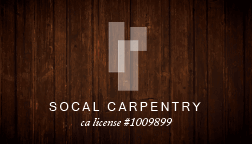 SoCal Carpentry
Finsih Carpentry and Fine Cabinets
1202 Knoxville St. San Diego, Ca 92110
Finish Carpentry and Fine Cabinets
License Number 1009899
1202 Knoxville St. San Diego, Ca 92110