Contact SoCal Carpentry For Your Free Estimate Today.
Window Seats and Feature Windows.
A window seat can be great for a number of reasons, whether you are short on space, short on seating or just want to build a comfortable and unique space in your home a window seat can be the perfect addition that you are looking for to optimize your space.
Window seats come in many shapes and sizes, whether you have a large bay window or just a small space we can custom tailor the perfect window seat for your needs!
Unlike a couch or another piece of furniture a built in window seat will be in your home forever, built to last and custom made to your exact specifications a window seat will make a wonderful addition to your home and a great investment that will add value to your home for years to come.
Do you have a tiny house? Or are you looking to build a tiny house? SoCal Carpentry can help you with the building of your tiny house or improve your tiny house by adding a custom made window seat that will add a great area to soak up the landscape surrounding you and add seating while being mindful of the space that you have.
Before you go out and buy a new couch, think about adding a window seat to your home, SoCal Carpentry specializes in optimizing your home and letting it live up to its full potential we offer everything from Window Seats to custom cabinetry, custom closets, bookshelves, entertainment centers and more!
Custom Window Seats Are Great For
If you're living in a small space such as a condo, consider adding a window seat with storage built in that allows you to add both a seating area and place to store your items.
If you have a bay window adding a window seat can drastically increase the seating that is available in your home.
Add a window seat to create a great way to soak up the sun and enjoy the nature around you.
Adding resale value to your home by opening up your rooms and adding a beautiful window seat. San Diego home values are on the rise, with a Window Seat in your San Diego home you can expect higher value for your home!
SoCal Carpentry can customize the window seat in your home however you like! Give Barry a call today for a free consultation, whether you need a large window seat as the centerpiece of your living room or a small nook window seat to accent your decor, SoCal Carpentry can create the perfect seat for your window!
F.A.Q.
Frequently Asked Questions
Are your window seats expensive?
Any custom piece is going to come with a higher cost, since SoCal Carpentry builds bespoke fixtures that are made to order, the cost will be higher than buying something pre-built, however, the fixture will pay for itself in the ability to customize it to match your branding, increased functionality, and overall design.
Do You Offer More Than window seats?
Yes, SoCal Carpentry is a full service Finish Carpentry and Fine Cabinet maker in San Diego, we specialize in building custom cabinets, closets, furniture, and business installations for our customers that are designed, and built in house using only the highest quality materials.
What is the build process for a window seat?
Our window seats are built using the same process as all of our projects. We begin with a free consultation to get the scope of the project, we use CAD to design the project, build the timeline, and provide an estimate for the project. We then build and install your piece to your exact specifications. Want to find out more? Take a Look.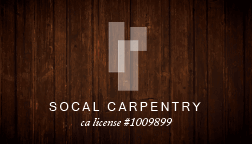 SoCal Carpentry
Finsih Carpentry and Fine Cabinets
1202 Knoxville St. San Diego, Ca 92110
Finish Carpentry and Fine Cabinets
License Number 1009899
1202 Knoxville St. San Diego, Ca 92110