Kitchen Cabinets: Replace or Reface
It's time to update the look of your kitchen, but you're unsure, should you replace your kitchen cabinets or reface them?
Contact SoCal Carpentry For Your Free Estimate Today.
Kitchen Cabinet Maker in San Diego.
SoCal Carpentry Fine Cabinetry and Finish Carpentry in San Diego specializes in the design, build, and installation of custom-built cabinetry and other fine woodworking. As a custom shop we focus on transforming your space to match your vision and make your dream come true, however, we're often asked if installing new custom kitchen cabinets is better than refinishing or refacing existing cabinets in our customers homes or offices.
While each option definitely has it's advantages, in most cases to really complete your vision you'll want to have custom kitchen cabinets designed and built to match the styling, size requirements, and function you desire. The main factor is the budget for your project, if you're looking for completely custom kitchen cabinets this will generally be more expensive than refurbishing your existing kitchen cabinets.
All of our work is made to order, our building process for kitchen cabinets will begin with a full CAD (Computer Aided Design) drawing of your project, during our initial consultation, Barry, the owner of SoCal Carpentry will take all of the measurements for the job, allowing him to then go to work designing the perfect piece for your kitchen.
Are Your Current Cabinets Worth Saving?
Another factor you should consider when looking into new kitchen cabinets vs. refacing kitchen cabinets is whether your current kitchen cabinets are high quality or not. If you have a prefabricated set of kitchen cabinets from a big box retailer it's likely that they're made from MDF (Particle Board), while this type of kitchen cabinets has a purpose (budget-friendly) they're not going to hold up to the day to day usage that they're going to see, and generally over the course of a few years they will begin to come apart.
If you're existing kitchen cabinets are made from a high-quality hardwood then you're in luck! With hardwood, the cabinets are going to hold up, and they can be refinished.
Lastly, consider the accessories that are going in to your kitchen, maybe you're installing a new farmhouse sink, while your existing sink cut out is for a standard sink, modifying your cabinets to make room for the new sink is possible in many cases, however the overall fit and finish may be better with new custom made kitchen cabinets. You'll want to consult with a licensed plumber like Coast Plumbing Solutions when making alterations to ensure that your cabinetry, accessories, plumbing, and electrical all work together cohesively to optimize your new kitchen.
With either our Custom Kitchen Cabinets, or our Kitchen Cabinet refinishing service we will need to view the job site to take measurements, get the details, and begin the design.
Semi-Custom Kitchen Cabinets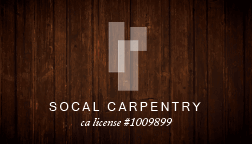 SoCal Carpentry
Finsih Carpentry and Fine Cabinets
1202 Knoxville St. San Diego, Ca 92110
Finish Carpentry and Fine Cabinets
License Number 1009899
1202 Knoxville St. San Diego, Ca 92110